Ancient practices affect modern sex workers
Rogueclassicist brought to my attention the following advertisement for platform shoes. I checked out the shoes and they look like ancient kothornoi… With fluorescent lights. They are a shiny example of the influence of ancient history in modern sex industry. I think that the minister of education will be very happy to see that classics has an impact on the wider economy! I seriously doubt, though, that prostitutes in ancient Athens would have managed to leave traces on the road with their shoes! As for modern prostitutes, I have no opinion due to the lack of first hand experience.
"The Aphrodite Project Team is pleased to announce the launch of Platforms, a new line of footwear specifically designed for sex work. Platforms are both an homage to Aphrodite and her prostitute-priestesses as well as a practical tool for the contemporary sex worker. With Platforms, we have created a seamlessly integrated system of shoes and online services. Our shoes use the latest technology to bring sex workers on par with other public workers, whose lives are valued highly because they work in dangerous professions that serve the needs of the community.
Our first shoe, a demo version of the Platform 001 sandal, was inspired by the prostitutes of ancient Greece and Rome, who enticed clients with their flutes and sandals that left 'follow me' footprints in the earth. Our contemporary sandals combine these poetic images from antiquity with promotional and safety features designed to meet the needs of today's sex workers."
Look at the shoes here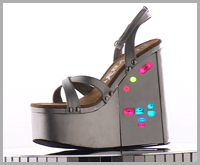 http://www.sexygpsshoes.com/main.php
Economic historian and numismatic consultant